What is a technology landscape?
A technologist, an inventor, an Original equipment manufacturer (OEM), or perhaps a business owner generally wants to conduct a survey on the opportunities for the development of one's area of expertise. Reasons for this search may vary but like one-size-fits-all, a technology landscape analysis solves it all. A technology landscape analysis provides a rigorous insight into the field of interest. To delineate further, it provides information through technical literature, patent analysis (which provides specific and detailed insight into emerging, latest, old or pursuing trends of innovation of a technology), product information, while also accounting for market analysis. A technology landscape study might also give an overview of regulatory norms and compliances relevant to technology and ways of commercialization of the technology.
How will a technology landscape analysis help you?
Wondering how to perform an analysis for the scope of your product or technology or at least have an overview of the latest technologies trending in 2020? A technology landscape analysis is an answer. The range of implication of a technology landscape analysis is wide and varies depending on the background of an individual/firm. However, the scope of such a study employs most or all of the following advantages of conducting this study:
It gives you cognizance of the missing state of the art thus enabling you to explore the extent of innovation potential. Moreover, a technology landscape analysis helps in identifying the white space areas and key challenges already faced by the industry and consequent opportunities.
Gain an insight into the latest technology landscapes of core competitors or potential key players and concentrate your search accordingly. This is particularly useful for recognizing potential partners or mergers for either acquiring selling rights or selling your product(s) to them.
Making informed decisions on future investments, marketing plans and business development strategies. Taking into consideration the intellectual property risks and opportunities as to which fields of the invention are the most protected/filed, the patent filing trends, geographical distribution of patents throughout the world, what product infringements to consider and to recognize key assignees for licensing products.
Give you an extra edge over competitors through innovation and market analysis. Such intelligence on competitors enables you to recognize what firms and their inventors have in their innovation pipeline, the intellectual property rights they currently hold and what are their key areas of focus that they are betting on.
How do we help you?
Signicent conducts technology analysis through meticulous research methodology. With reports successfully delivered to clients throughout the world, we have conducted analysis on 1000+ diverse range of domains including 3D Biometrics; Artificial Intelligence (AI) based diagnostic assays; Non-viral vectors; E-textiles; Automotive industry; Personal Protective Equipment; Internet of Things (IoT) based Autonomous Vehicles and their drive trains; advanced Tire systems that include Non-Pneumatic to Tire Pressure Monitoring Systems; Solar Windows and Augmented Reality/Virtual Reality (AR/VR) to name a few.
Our thorough research methodology includes studies and overviews from:
Patents: Patents are searched over 100+ designated authorities using paid and open source databases. With this analysis, results are depicted based on taxonomical categorization in customer-centric formats. Relevant results can be optionally hosted to our award-winning Patent Dashboard – PatViewTM. We conduct patent searches across commercial IP databases such as DerwentTM Innovation and Questel Orbit, besides open-source patent databases such as Espacenet and Google patents.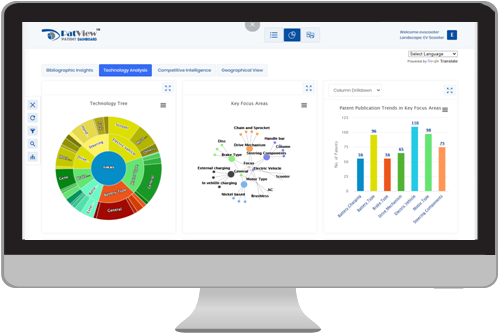 Regulations: Our landscape search spans regulatory norms, guidance and compliance information for evaluating technological challenges and opportunities.
Technical and non-technical literature: Other than patents in any given technology area, several other platforms such as journals, research or review papers, blogs, YouTube videos, newspapers and magazine articles etc. are also covered under the purview of the technology landscape. Scientific literature is searched across multiple databases and journals such as ProQuest, EBSCO, PubMed, clinical trials, Science Direct, J-Stage, Special Chem, Semantic scholar, ASME digital collection, IEEE etc. as per client's/technology requirement.
Products: We conduct exhaustive searches to find relevant products, articles or software/applications across numerous product databases, company websites of competitors selling similar products, e-commerce websites such as Alibaba Express, Amazon, eBay, Rubbermaid etc. Mobile application stores for iOS/ Android platforms and Google are searched for relevant technology. Trade shows and news are also included to cover any information pertaining to the latest trends in technology. Product manuals and brochures are searched for existing articles in the market.
Market analysis: Generally, a trend of product development, current technologies in the field, upcoming technologies and the global market are evaluated to help make informed decisions on investment. Signicent performs market analysis for the market size of a given technology through precise estimation over geographies throughout the world and its application areas using market research databases such as SMART, Hoovers, Business Source Premier (BSP), Acc & Tax besides others relevant to the field of technology. To keep the analysis all-inclusive both primary and secondary research sources are taken into account.
Commercialization: If you are looking to launch your product into the market or earn revenue from your IP, Signicent can perform Freedom to operate searches (FTOs), find licensees & potential buyers, and technology valuation to commercialize your technology.